Polbathic Community Hall
Tuesday November 13th 2012, 7.30pm.

What a privilege to be invited to play at the first concert in the newly reconstructed Polbathic Community Hall.

Polbathic and its hinterland has a strong tradition of delivering quality performances in pantomime, live music and quiz nights, to mention but a few forms of entertainment that routinely graced the stage of the old building. The new version has encapsulated that spirit, the essence of a great community hall, but brought it up to date, not to mention building regulations. Well done to all concerned. And last Tuesday night the concert goers, singers and musicians were warmly welcomed to the new performance venue by Master of Ceremonies and our host for the evening, Mr. Tony Bowditch, who introduced Deviock Community Music (DCM), sharing the evening's billing with Reflections, a twelve-strong choir from the Sheviock area whose delightful four-part harmonies are always a big attraction.

DCM opened proceedings with a rendition of 'Caravan'. Not the sort you might find on the A38, something far more Middle-Eastern, possibly a bit more romantic and definitely more jazzy. Next up was 'In the Bag', or at least we hoped it was going to be… followed by the Dylan song 'Wagon Wheel', with Pat McSherry in fine voice and Biddy Lloyd playing the country-style violin solos. When the applause eventually died down it was all aboard the 'Night Train', conductor Martin Entwistle seamlessly bringing in the ever-reliable Alan Clutterbuck on lead guitar, Jenny Jones on alto saxophone and honoured guest Andy Painter on trumpet, for some very lovely improvised solos. With no intended reference to a November evening, the hall then went 'Misty' featuring yet another beautiful alto sax solo from Jenny. Then, with time rolling on there was just enough time for a quick trip on the 'Sloop John B' before the audience was safely delivered into the hands of the Reflections choir under the baton of Sylvia Fraser.

At first the choir seemed a little moonstruck by the new hall, opening with a medley comprising 'Paper Moon', 'Blue Moon' and 'Moonlight Serenade'. Then, having made us all gooey, they informed us that 'Love is the Sweetest Thing', before inviting us to consider 'How High the Moon'? Next we were fiddling about on the (new) roof not knowing whether it was 'Sunrise, (or) Sunset'. After all that, Sylvia helped the choir to take the Sting out of 'Fields of Gold'. And before we knew it, Polbathic hospitality invited folk to 'Consider Yourself at Home'. So that's precisely what we did, with a nice cup of tea and a raffle ticket courtesy of a small army of volunteers from the hall committee.

Following the break the choir made up the words (or to be more exact - delivered Carl Jenkins' made-up words) to the hauntingly beautiful 'Adiemus'. Having been lulled into a false sense of security we were then rocked back in our seats thanks to Cole Porter's 'Blow Gabrielle Blow'. With the adrenalin pumping, the audience was asked 'Can You Feel the Love Tonight'? And of course, we could; only to find they were talking about the love for coffee and tea and Ben Oakland's 'Java Jive' you see! Reflections then bid us goodnight by saying 'Thank You for the Music' to Abba and inviting audience participation in the chorus.

To close a memorable evening of live music by local singers and musicians in the delightful new community hall, DCM took to the stage once more and kept the musical mood with 'Someone to Watch Over Me', Dylan's ballad 'You Make Me Feel My Love' featuring guest vocalist Tracy Clements (very warmly received; huge thanks to Tracy and also guest horn player Andy Painter, who played a delicious Flugel horn accompaniment). And with time just running away that night, it was only fitting to end in an up-beat way with 'Night Run', featuring scrumptious improvised jazz solos from (respectively) Alan on lead guitar, Jenny on alto saxophone and Andy on trumpet.

We left following thanks from our host and a very warm invitation to help to stack the chairs against the wall (lovely new chairs of course).

Gerry Glynn, 17/11/12

Follow this YouTube link to hear recent recordings of our live performances.

Back to DCM home page

DCM past performances

Music Around Deviock




Text and images © Deviock Community Music, Deviock, Cornwall.
Photos by kind permission of the original photographers.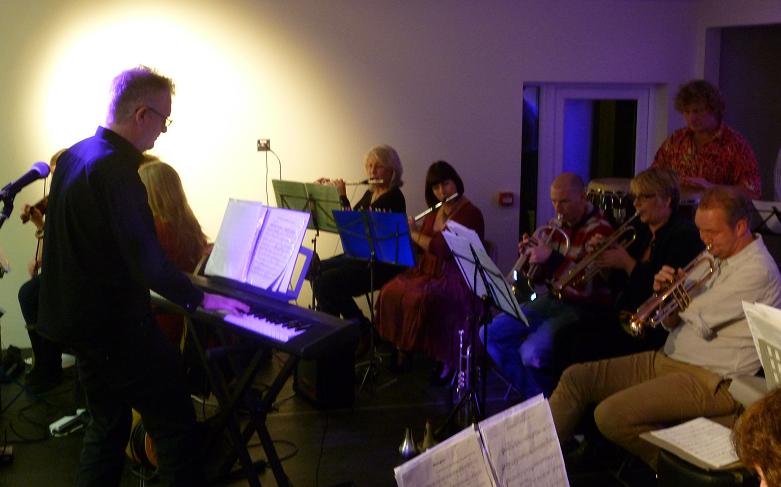 DCM at Polbathic Hall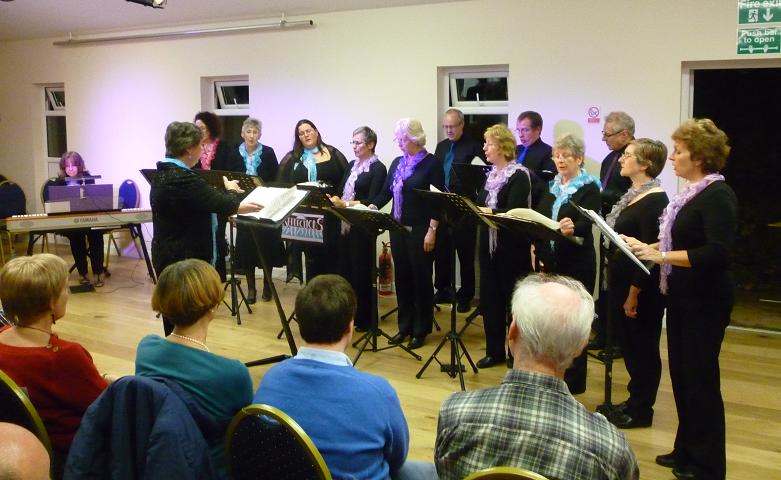 Reflections Choir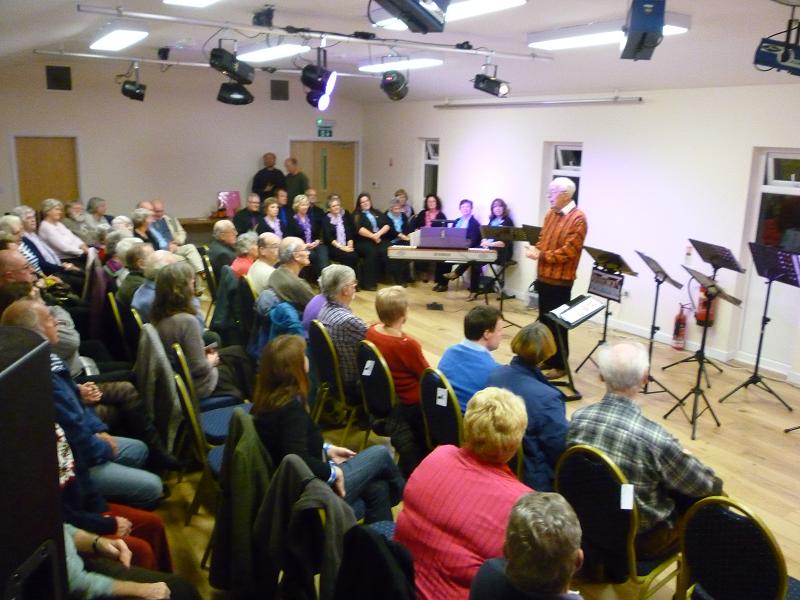 The new Polbathic Community Hall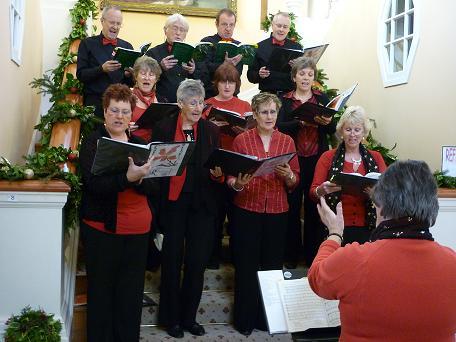 Click on photo to visit
Reflections home page